Club Ride Day
We are excited to offer our very first Club Ride Day, sponsored by Big M Excavating!
We will be exploring the KingFisher side of our mountain, and will be staging from Mable Lake Farms. Groups will be determined based on rider skill level, and club volunteers that know the areas well will take each group out to enjoy the terrain and riding our LaForge trail head has to offer. By purchasing your ticket for this event it also enters you to win some awesome door prizes!
Lunch will be included in your ticket purchase, and is being put together by Mable Lake Farms Cafe. When purchasing your ticket, please make sure you select the lunch option you would like to have. There are 2 options for sandwiches, Ham & Cheese or Chicken Crisp Bunwich. Lunch comes with a homemade Apple Strudel and bottle of water.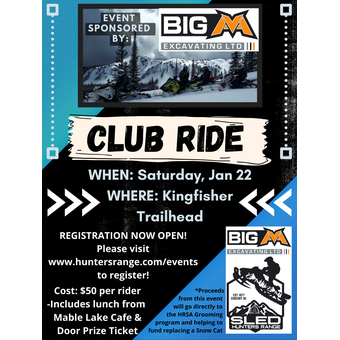 33 Kingfisher Rd, Enderby, BC V0E 1V5, Canada